Duffyfield Canal Clean Up
Green Craven is assisting in the clean up of what is commonly known as the Duffyfield Canal. This body of water has been noted on charts and in writings since 1710 and has served as a drain or adjustment arm leading to Jack smith Creek and ultimately to the Neuse River.
Over the centuries, it has been alterd, had bulwarks installed and has caused flooding in the Larksville and Duffyfield areas.
A new water drainage project will improve the drainage and flood control i the area, but the canal itself is dirty. While not totally clogged, there are portions that do not allow for a good flow.
The local residents have gotten together to clean this area out and to maintain it in the future. Green Craven has assisted by bringing together groups and volunteers to assist and provide some guidance on safety and proper clean out of the canal. Larry Baldwin, Riverkeeper, and the Neuse Riverkeeper Foundation have agreed to povide their expertise in clean up procedures and safety and the City of New Bern is providing support services and water testing.
The clean up is scheduled for November 6, 2010.
This is one example of how Green Craen can assist in bringing people together to make our area better.
Images below show a few views of the area.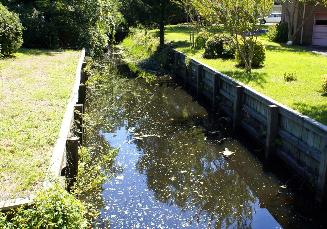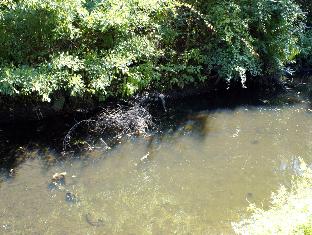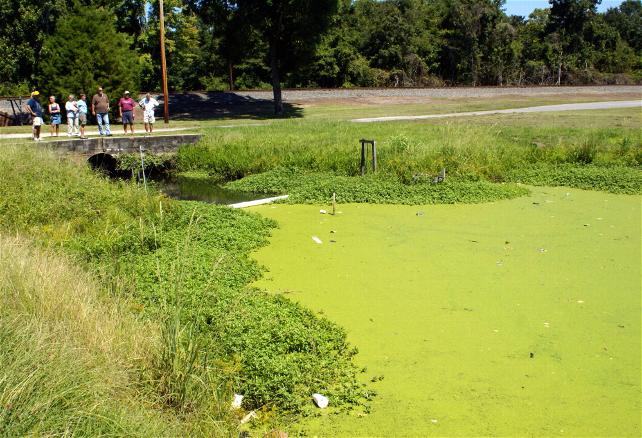 Members from Green Craven and the NRF survey an area of the Canal
There is a new class at Craven Community College with Amanda Norwood leading the way:
I will be leading a continuing ed class at Craven CC in the Fall that for now we are calling Greening Your Business or How Greening Your Business Makes Good Buisness Sense. The course will be 24 hours long and cost $65. There will potentially be 3 class times: 11-1 or 6-8 on Thursdays or a series of 6 Saturday classes of 4 hours each.

Below is a general topic outline and course description, I'll be working out more details in the next few weeks, and I hope to be able to focus on topics that relate to specific people taking the class. I am by no means an expert but I have a wonderful text for guidance with very practical info and great spreadsheets to help buinesses move forward. I also hope I can count on some of with more expertise than I in certain areas to act as a guest speaker.

This course will only happen if there are enough participants so please share this information with any businesses, individuals or organizations that might be interested. I hope this may be another chance to move sustainability forward in New Bern.


Course Outline

1. Introduction, terminology, why go green, carbon footprint

2. What is Energy Efficiency and sustainability

3. Lighting Technology

4. Water Technology

5. Heating, Ventilation, Air Conditioning

6. Building Design-roofs, windows, insulation, weatherization

7. The 3 R's: Reduce, Reuse, Recycle

8. Transportation/Travel, purchasing

9. Office Equipment (computers, vending machines, appliances)

10. Alternative or Renewable Energy

11. Marketing and third-party certification, tax and other benefits

12. Creating a green plan, indoor air quality

13. Who is doing what and why (will focus primarily on Craven county and NC as a whole)

14. Outlook to the future

15. Greening business Sectors(will depend on who takes class, will focus on their industry first)



Course Description: In this course, you'll discover how to save energy, save money, and reduce your carbon footprint. This course will offer practical information to help businesses and organizations learn what can be done to lower their energy demand and other environmental impacts while saving money. We'll look at simple projects you can do on a shoestring and at larger projects that will bring big returns over time. Topics will range from water and lighting to computer and renewable energy technologies.




Amanda Norwood
252-514-6621 or 252-349-9411 e-mail ajwnorwood@yahoo.com

Green Craven teamed with the Chamber of Commerce and Less is More to award three Green Business Awards on Earth day, 2010. for highlights and excerpts, go to http://www.examiner.com/x-25485-Craven-County-Photojournalist-Examiner~y2010m4d22-Mayor-Commissioners-and-organizations-recognize-Earth-Day-in-New-Bern
INCENTIVES FOR SOLAR GENERATORS 6-4-09
Progress Energy announces incentive for solar power generation. Click here for details http://www.progress-energy.com/aboutus/news/article.asp?id=21723 .
HABITAT CONTINUES TO BUILD GREEN !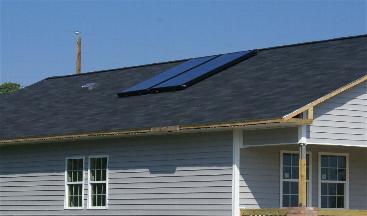 BY BUILDING beyond the codes specifications and adding extra caulking and seals, Habitat has long been making homes more efficient...and NOW...Solar Hot Water heating! Using special grants and the generous efforts of volunteers and providers, Habitat in New Bern has added Solar Hot Water Heating to a home under construction on Pasteur Street in New Bern. Saving money for the proud owners and helping make Craven County a little greener.
THANK YOU HABITAT FOR HUMANITY ! For more information about Habitat in New Bern, go to http://www.newbernhabitat.org/ .
Craven Clean Sweep and Partners reduce Waste.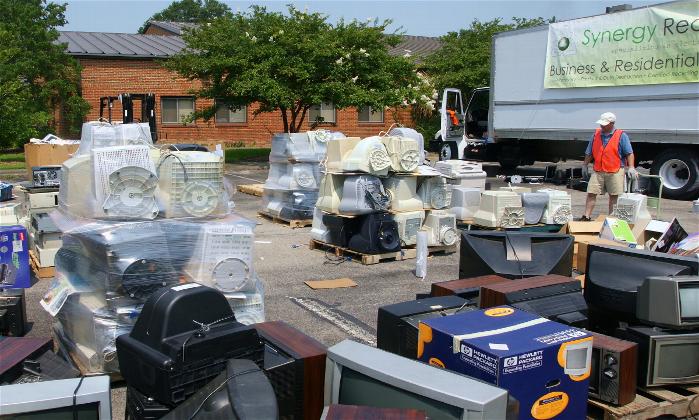 Hundreds of electronics products were collected on August 8 for proper salvage and recycling. They did NOT go to the landfill and most will be taken apart and the materials salvaged and/or recycled, thus reducing the waste created by the electronic age.
Click Here For a video look and more details about the program !
Good Job Clean Sweep!
Local Solid Waste Management Director makiing an impact.
Allen M. Hardison, Executive Director of the Coastal Environmental Partnership, has been named to the Board of Directors of the North Carolina Chapter of SWANA (Solid Waste Association of North America).
He will serve on the Policy Committee of the chapter. The policy committee serves as the Legislative Liaison and is responsible for tracking and influencing legislation and solid waste policy within the State. The policy committee also educates the membership at large and represents NC-SWANA at regulatory hearings as needed.
Craven County is using Rainwater to reduce demand for water
Craven County is using a system that catches the rainwater from the roof of the Animal Shelter to use for cleaning out the trenches in the Kennel area. Since going online in March, over 39,000 gallons of rainwater have been used in place of metered water, saving money and reducing the demand on our strained water supplies. For a short video showing the system, CLICK HERE
If you know of news and ideas, let us know ! This is a site for sharing ideas and information and we want to hear from YOU.
email service@greencraven.org !